---
Epoxy.com' Product #225
Water Cleanable Epoxy Grout and Adhesive With Filler Powder
---
DESCRIPTION
Epoxy.com Product #225 is a user friendly, water cleanable, 100% solids epoxy grout and adhesive and Filler Powder . Used for grouting ceramic tile, brick pavers, and stone, Epoxy.com Product #225 is supplied in pre-packaged kits containing resin, hardener, and mineral fillers that produce a dense, uniform seal. Typical applications for Epoxy.com Product #225 require resistance to thermal shock, chemicals, and heavy traffic including meat packers, breweries, canneries, bottlers, CIP areas, and pharmaceutical formulators.
ADVANTAGES
User Friendly Packaging
Low Odor for use in Occupied Areas
Meets ANSI A-118.3 Specification for Chemical Resistant, Water Cleanable Epoxy Grout
Available with Cold-Room Hardener
Low Viscosity-good wetting properties
Versatile-for both Setting and Grouting all Types of Tile
USDA Approvable
Available in Floor Grade and in Wall Grade
Zero (0) VOC - No VOC content means it meets the strictest Low VOC requirements
SURFACE PREPARATION
Surface Preparation is the most critical portion of any successful resinous flooring system application. Work must be performed by trained or experienced contractors or maintenance personnel. Epoxy.com service department is pleased to answer any questions. Before grouting, clean joints and the tile surface with a damp sponge to remove dust, dirt, and other contaminants. Do not leave water standing in joints. Do not clean tiles with acid cleaners.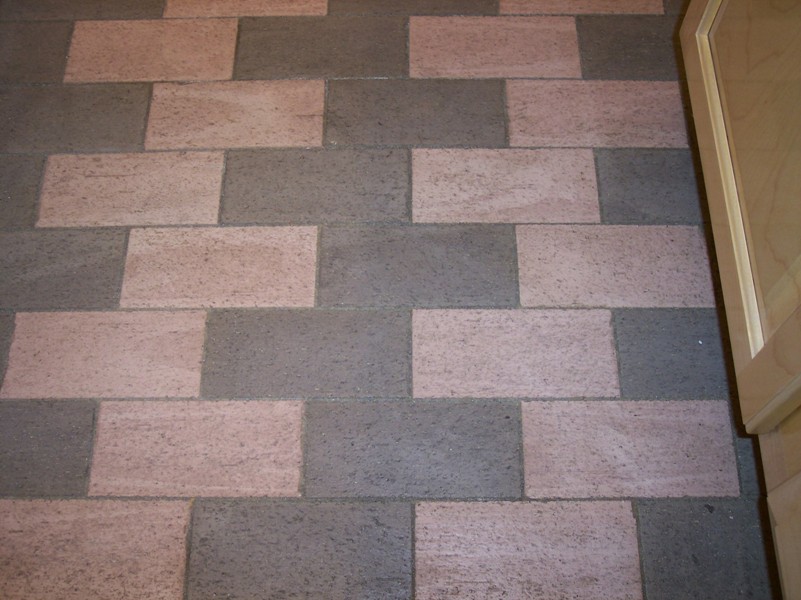 Photo by:
Countertops by Porter
MIXING
Empty entire contents of Part A and Part B into a clean mixing pail. Wtih a slow speed drill or margin trowel, mix until liquids are completely blended. Add at least ¾ of the TILE GROUT FILLER (more for wide joints) and blend until uniform.
CONSIDERATIONS
Substrate must be free of dirt, waxes, curing agents, and other foreign materials
Protect from exposure to chemicals and harsh cleaners until fully cured.
Substrate temperature must be a minimum of 50°F-Contact Epoxy.com for Low Temperature Cure
INSTALLATION
Pour mixed Epoxy.com Product #225 onto working area. Following standard epoxy and grouting techniques, apply to surface. Be sure all grouted joints are completely filled. Remove excess grout with grout float. Do not leave excess grout on face of tiles. For complete installation instructions, contact Epoxy.com Technical Service.
CLEAN UP
Some tiles and pavers can be stained by color pigments in Epoxy.com Product #225. Try small area to determine results before grouting entire surface.
Clean skin with soap and water. Tools and equipment should be cleaned with xylene or lacquer thinner. Consult Material Safety Data for safety and health precautions.
Composition
100% Solids Epoxy Adhesive and Grout Fillers
PERFORMANCE PROPERTIES

| | | |
| --- | --- | --- |
| Tensile Strength | ASTM C-307 | 2,000 to 2,500 psi |
| Compressive Strength | ASTM C-579 | 15,000 psi |
| Flexural Strength | ASTM C-580 | 3,800 to 4,100 psi |
| Water Absorption | 24 hours | 0.15% |
| Heat Resistance | | 160°F Continuous 230°F Intermittent |
| Bond Strength to Concrete | ASTM C-321 | 350-400 psi |

CURE/DRY TIME

| | |
| --- | --- |
| Working Life | 45 minutes |
| Initial Cure | 6-7 hours @ 75°F |
| Full Set Time | Overnight |
| Full Cure & Maximum Resistance | 5-10 days |

Photo by: Countertops by Porter
MAINTENANCE
After completing the application of Epoxy.com Product #225, the installer should provide the owner with maintenance instructions. If floors become slippery due to animal fats, oil, grease, or soap film, clean and rinse thoroughly.
Epoxy.com Product #225 is easily cleaned with neutral soaps or detergents.
COLOR SELECTION
Custom colors are available subject to laboratory approval, minimum quantity, lead time for production, and increased cost.

Click the picture of color card below for a larger version of this picture of the color chart.
Please note: The picture to the right is a photographic reproduction of the color card for this product. The photo reproduction process and your monitor and/or printer will change these colors. This chart is to give you an idea of the colors available and not intended for critical color selections.
Need help figuring out how much Product #225 you will need. Use the Epoxy.com Product #225 Grout Calculator.