---
Epoxy.com System #430-2
Decorative Multi-Colored Polyurethane Deck Covering
---
Epoxy.com System #430 is an elastomeric coating system for walking decks, balconies, patios, etc., where an absolutely waterproof coating is crucial, such as above living quarters and any other occupied areas.
DESCRIPTION
Composition: Liquid-applied, single-component, moisture-cured, polyurethane deck covering system. System consists of a primer where necessary, Epoxy.com PRODUCT #459 membrane coat, Epoxy.com PRODUCT #32 Flexible Epoxy, color quartz aggregate and Epoxy.com Product #488 clear Polyaspartic. Epoxy.com S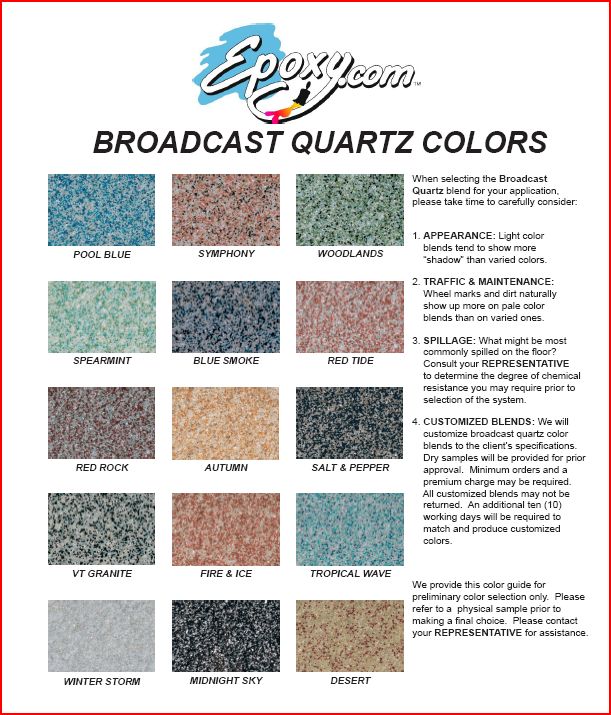 YSTEM #430 is available in a variety of different color combinations.
Basic Uses: For waterproofing patios, sundecks, stairways, balconies, etc. Epoxy.com SYSTEM #430 can be used on all decks where a skid-resistant, long-lasting, wear-resistant, water-proof surface is required. It may be used on new decks as well as on old concrete decks which are damaged, or cracked. The system is suitable for exterior as well as interior applications in all kinds of climates. The coating retains its elastomeric properties in below freezing weather as well as in very hot climates.
Limitations: All materials shall be delivered to the jobsite in unopened containers clearly marked and labeled. Containers that have been opened must be used up within one or two days since it is a moisture-reactive material. It sets up when exposed to air. All surfaces must be completely free of foreign matter and primed where necessary.
Shelf Life: 6 months at 77° F. (25°C)
Colors: multi-colored Color Quartz or Color Chips.
Sizes: Available in 1 gallon cans, 5-gallon pails and 55-gallon drums. Weighs 10 lbs. (4.5 KG) per gallon.
INSTALLATION
More coming soon